06/15/2015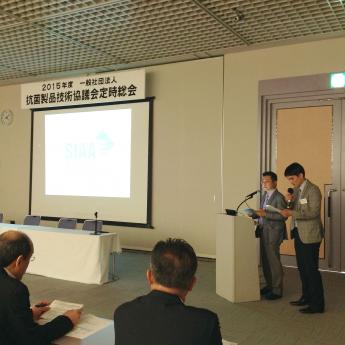 2015 Annual Meeting of SIAA (Society of Industrial technology for Antimicrobial Articles) was held at Shinagawa ward hall "Kyurian" on June 15, 2015.
 Sinanen Zeomic Co., Ltd. has been awarded a certificate of appreciation for introducing three new companies to join the society and for registering three of our products to the positive list of fungal agent, promoted by SIAA.
 Also Mr. Cho, President from Ecowell Co., Ltd, our local distributor in Korea, was invited as a special guest and announced that Korean Antibacterial Industrial Technical Association (tentative name) is planned to be established for the purpose of familiarizing antimicrobial-processed articles further in Korea and promoting development of antimicrobial-related industries.
 As a main member of SIAA, we will cooperate with SIAA to spread Japanese origin antibacterial culture to the world.